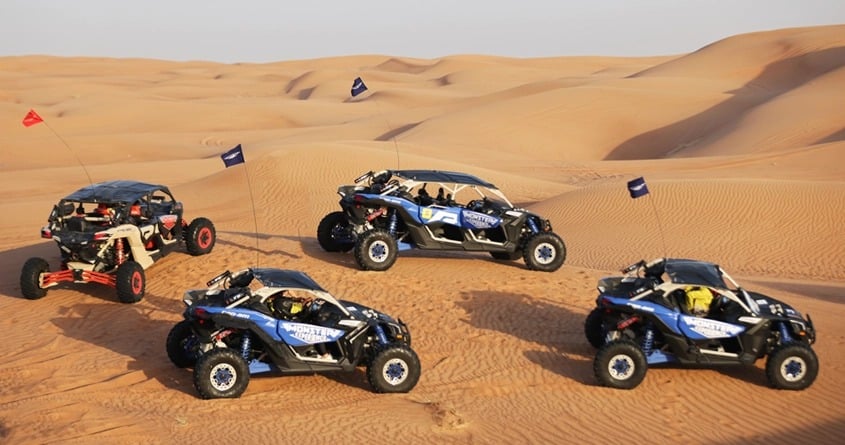 Thrill Seeker's Guide to Dubai's Desert: Dune Buggies and More

The deserts around Dubai provide an unmatched adventure playground for adrenaline seekers. The desert is a location where you can really get away from it all as well as enjoy nature in its most unadulterated state, with wide stretches of golden sand dunes stretching as far as the eye can see. Dubai's dunes offer the ideal setting for thrilling sports like sandboarding down steep slopes and dune buggy bashing in 4×4 vehicles, as well as other exhilarating pursuits for those seeking an adrenaline rush. Some of the best methods to get your pulse racing among the dunes are outlined in this book.
Dune Buggying
Dune buggying is a highly-liked pastime in Dubai's desert. Lightweight, open-top cars called "dune buggies" are made specifically for driving across sand dunes. They are protected by roll cages, strong engines, as well as big tires. A number of tour operators provide guided dune buggy experiences, where you can enjoy the exhilaration of racing at great speeds up as well as down massive sand dunes.
A fleet of colourful buggies will be ready for you when you meet your guide at a prearranged location in the desert for a classic dune buggy tour. Following a quick safety instruction, you will select your buggy and venture into the dunes. The drivers with a great deal of expertise, the guides, will take you to the greatest dune locations. When your buggy climbs steep hills and rockets down the other side, it's time to turn up the throttle and experience the surge of excitement.
Drivers with more experience can try "dune surfing," in which the object is to keep moving while sliding sideways down a dune. To manage the slide and avoid being trapped requires ability. There are "dune bashing" trips offered for people looking for an even greater rush, during which operators will do risky stunts like 360-degree spins. Just be ready for one hell of a rollercoaster trip over the desert.
Sandboarding
Sandboarding is a thrilling pastime that blends elements of sledding and snowboarding, so give it a try. Similar to snowboards, sandboards are lightweight boards with fins on the bottom for improved traction in the sand—the ideal places to go sandboarding feature 300-foot-tall, steep, powdery dunes.
You must trek or be transported to the top of a sizable dune buggy desert safari system in order to go sandboarding. After that, just position your board at the top and take a leap. At thrilling speeds, let gravity drag you down the steep hill while you carefully balance and manoeuvre with the fins. Sandboarding requires some effort to learn how to carve turns as well as prevent crashing out, much like snowboarding. However, learning how to slide and carve down lengthy runs is a ton of fun.
Sandboards and helmets, as well as guides, are provided by several tour companies to help you reach the highest dunes. You get to relive the thrill on days with many runs. Sandboarding is a special way to enjoy a heart-pounding workout while getting up close as well as personal with Dubai's desert scenery.
Desert Camping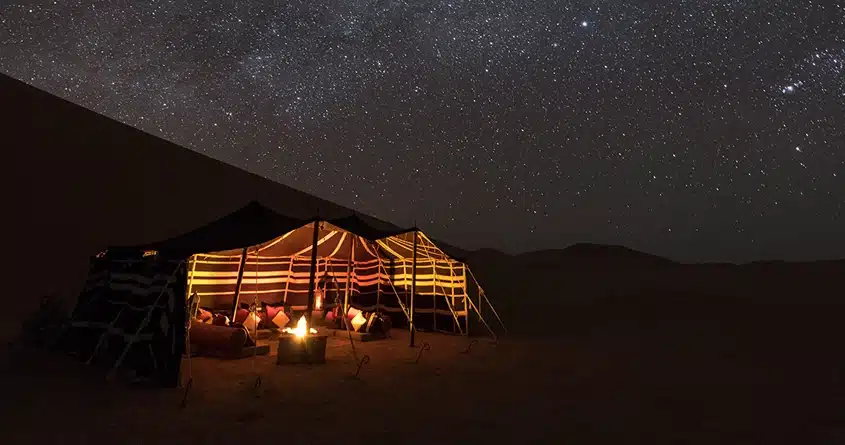 Consider spending the night in the desert under the stars for a more immersive experience. Numerous businesses provide overnight camping excursions well into the dunes and enjoy a luxury desert adventure. You'll be driven to isolated locations in 4×4 vehicles, where you'll assist in setting up cozy campsites furnished with sleeping bags and tents, as well as other conveniences.
Once you've set up camp, take pleasure in nighttime storytelling, cooking over an open fire, as well as stargazing. Due to light pollution, most cities are unable to glimpse the magnificent spectacle of the Milky Way spread over the pitch-black sky. Wake up to a fresh pot of coffee as well as the sun rising over the dunes. Some programs offer morning excursions such as trekking dunes or a chance to go desert fishing in temporary lakes.
You may fully detach from the hustle and bustle of everyday life and enjoy the untainted beauty and isolation of Dubai's desert wilderness by spending the night camping. Sleeping beneath a starry sky is a once-in-a-lifetime experience. For the most immersive experience, multi-day excursions are offered even farther into the desert.
Desert Safaris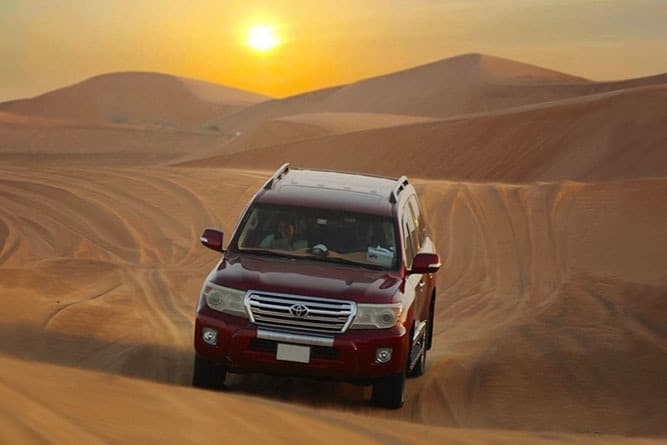 An all-inclusive method to explore a variety of desert activities in a single full-day vacation is through desert safaris. Popular safari experiences combine the exhilaration of sandboarding down sizable dunes or dune bashing in 4×4 vehicles. To break up the activities, they do, however, also arrange pauses along the way. A desert oasis is one place where a lot of safaris halt. An oasis is a place in the desert where subterranean water rises to the surface, supports flora and even permits swimming. In an oasis, visitors may take a dip to cool down and take in the verdant surroundings that contrast sharply with the golden sand dunes Dubai buggy. Another stop is a safe distance observation of native desert fauna, including Arabian oryx.
Safari vehicles will stop at picturesque overlooks to see the striking desert panoramas and distinctive landscapes in between activities. This enables visitors to enjoy the unadulterated beauty of nature. To experience Bedouin culture, a typical barbecue meal or evening is frequently served outside beneath the sky. A few safaris include specialty experiences, such as sunset camel rides. As the sun sets, as well as the dunes flame orange, riders may ride softly across the sand atop a camel and enjoy the expansive views of the desert. Unmatched aerial views of the enormous dunescapes from above are offered by hot air balloon journeys over the desert at dawn or twilight. Through careful logistical organization, desert safaris provide guests an affordable opportunity to fully immerse themselves in the desert's offerings during a single, fully guided full-day trip.
Conclusion
Adventurers may find countless ways to make their hearts race in beach buggy Dubai, from exhilarating dune bashing to immersing overnight camping. Whether you're planning a multi-day adventure or a half-day adrenaline ride, the expansive golden landscapes offer the ideal playground. Visitors may enjoy thrilling activities and safely take in the desert's unadulterated natural beauty by adhering to the advice of local tour operators as well as guides. With so many choices, it's understandable why people are always drawn to Dubai's desert in search of their next thrill.