DIRT BIKE RENTAL TOURS DUBAI
Looking for dirt bike rentals in Dubai?
Monster Experience is the go-to for KTM rides and rentals in Dubai. Ride high through the beautiful red sands of Al Badayer near Dubai. Guided by an experienced desert dirt biker, you will explore some of our top desert trails starting with gentler slopes and moving on to steeper dunes as the ride progresses. Beginners can opt for our shorter desert motorbike tours while seasoned riders can make the most of Monster Experience's adrenaline filled advanced motorbike rides. Ask for a Go-Pro to get a bird's eye view of your thrilling desert motorbike tour!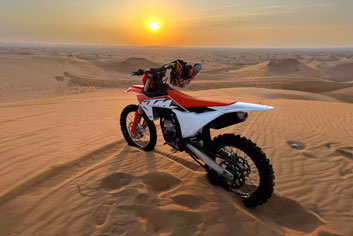 Designed for greater control and easy handling, the KTM 450 is known for its power and stability. With the ability to get low on corners, and a shock-absorbing frame, the bike is ideal for riding hard over desert dunes.
Starts from / per vehicle
Monster Experience has a fleet of KTM 450s, the gold standard in off-road motorbikes. Recognising that extreme desert conditions can extract a heavy toll on our vehicles, we put each motorbike through a rigorous maintenance, service and repair schedule that involves multiple checks and tests before each motorbike is deemed road-worthy. It is our job to ensure that your experience is all about thrills, not spills.
THE DESERT RIDE OF A LIFETIME
When you sign up with us for a thrilling desert bike ride, you're in a prime spot to experience the Dubai desert in all its raw and unfiltered glory. Our facility includes a cafe, rest spots, seating areas to watch the sunset or socialize between experiences – but what is more impressive than having the desert in your backyard?
1. Is a license needed?
No. Previous experience with motorbikes or bicycles would be helpful, but our expert instructors will teach you the nuances of riding a dirt bike and moving through desert sands.
2. Age requirements 
This experience is available to anyone 16 years and above.
3. Dress code
We recommend comfortable clothing and shoes that do not restrict movement but are also streamlined. Sports gear and casual clothing are ideal. Carry a jacket in the winter months. Bear in mind, we will supply all the additional gear you need at no extra cost.
4. Duration of Motorbike ride 
Depending on your level of expertise, you can choose a shorter ride of an hour or a longer ride.
5. Inclusions 
Racing gear: Pants, jacket and gloves 

Safety essentials: Crash-resistant helmet, collarbone and knee protection,  goggles

Fuel for the motorbike

Specialised training by an expert instructor 

Guide accompanying you on the ride
Dirt Biking in Dubai:
Thrilling Desert Adventures 
Enrolling on an adrenaline pumping adventure with a dirt bike in Dubai has become noticeably more  prevalent in recent years. At Monster experience we take great pride in offering personalized tours to please all types of individuals and groups seeking to enjoy a memorable ride across the magnificent desert landscapes of the United Arab Emirates. We offer first rate  quality gear, expert guidance, and unmatched customization options to ensure that each tour is tailored to your preferences and proficiency level.
Venture through Dubai's Golden dunes: The Unrivaled Dirt Bike Adventure
The excitement of riding a strong high quality dirt bike rental over golden sand dunes attracts amateurs and seasoned riders alike.Guided by our team of experts, you can conquer Dubai's diverse terrain which challenges even off-road veterans while providing suitable routes for those new to this sport. Experience the charm of the unchanged eternal desert while living the moment of your dreams
Dirt Bike Rental: Choose Your Weapon Wisely
Monster experience provides adventurers with a group of well equipped and maintained dirt bikes designed to meet the expectation of all sorts of riders ranging from experienced veterans to beginner novices. Beginners may feel at ease using the user-friendly motocross bikes while experienced riders may be drawn to the more aggressive enduro bikes based on their tastes and proficiency. Moreover, our motorbike offerings include top tier models such as KTM and other trusted brands—ensuring you will have everything needed for a bike adventure in Dubai's wonderful desert landscape.
Choose your favorite Type of a  Customized Off-Road Experience
Monster experience believes that everyone has different preferences and tastes when it comes to off-road adventures. Therefore, besides dirt bikes, we also offer quad bikes, buggies, and other types of all-terrain vehicles for rent. Expand your horizons by exploring what each vehicle type has to offer during your thrilling Dubai adventure.
Quad Bikes: A Fun Alternative to Dirt Bikes
If you are looking for a different kind of off-road experience, consider renting a quad bike. Offering better stability and ease of use than dirt bikes, these four-wheeled vehicles still provide plenty of excitement as you glide through the sand dunes of Dubai.
Buggy Adventures: Add a Dash of Comfort on your Off-Road Trip
Desert buggy rentals can take you on an adrenaline-filled journey while ensuring optimal comfort. With their enhanced suspension systems and roll cages designed for safety, buggies offer a stable and comfortable ride that will allow you to soak in the beauty of Dubai's desert landscape at high-speeds without compromising your enjoyment.
Uncover Hidden Treasures as you Blaze Through Dubai:s Sand Dunes
An off-road adventure is more than just the exhilaration of riding powerful machines—it's also an opportunity to acquaint yourself with the breathtaking beauty and rich culture that lie beyond Dubai's bustling cityscapes. Discover hidden gems sprinkled throughout the dunes, barren mountains, and other unique terrains as you enjoy a once-in-a-lifetime dirt bike tour.
Navigate the Challenging Fossil Rock Circuit on Your Enduro Bike
For those seeking a challenge, the Fossil Rock circuit offers seasoned riders an intensive full-day desert trek. Master narrow tracks, gravel beds, and steep ascents and descents on your enduro bike, pushing both your skills and the machine to the limit as you explore this enthralling terrain.
Discover Desert Oases and Ancient Forts on Guided Dirt Bike Tours
A guided dirt bike tour is perfect if you wish to delve deeper into the history and wildlife native to the UAE. Ride your motorbike through the heart of the Dubai Desert Conservation Reserve, stopping at secluded oases and ancient forts while learning about the region's rich past from experienced guides.
Safety First: Enjoy Your Off-Road Adventure with Confidence
Ensuring a safe and enjoyable experience is our top priority. That's why all tours begin with thorough orientations and supervised practice sessions in a controlled environment. Additionally, our knowledgeable instructors offer guidance throughout the entire duration of each tour, guaranteeing that even beginners can navigate Dubai's dunes confidently and securely.
Essential Gear Provided for Ultimate Protection
Your safety isn't complete without proper gear. We provide helmets, goggles, gloves, boots, and other essential protective equipment designed to prevent accidents, ensuring you can focus on having the time of your life across Dubai's desert landscape.
Rent one of our high-quality dirt bikes or explore other off-road vehicles like quad bikes and buggies

Create unforgettable memories as you uncover hidden gems sprinkled throughout Dubai's majestic sand dunes and beyond

Let experienced guides lead the way, giving helpful tips and ensuring your safety while sharing fascinating insights into local culture

Embark on an adventure tailored to your preferences — whether it's a short joyride or an in-depth exploration of Dubai's greater landscapes
Ready to conquer the dunes and create lifelong memories? Embark on an unforgettable journey across the incredible terrain of the United Arab Emirates with our tailor-made Monster Experience.